Chocolate Bars
Our chocolate bars come in a variety of your favourites. Snickers, Coffee Crisp, Mars, Kit Kat, York Peppermint, and, of course, Reese Peanut Butter Cup.
At 600mg. THC, these treats are not to be underestimated and care should be taken with dosage. Keep out of reach of children.
Please be patient, as is the case with most edibles, these take time to kick in. Most users (and the label) say that around 40 minutes on average to really get going.
If you buy Two, you get one free!!! Hmmmm, yummy treats and a freebie…sounds good to us!
Description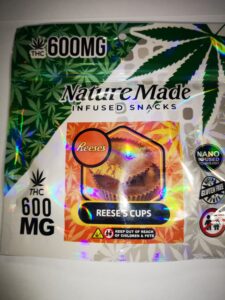 $25.00 each ……. Buy 2 and get a third one free!!